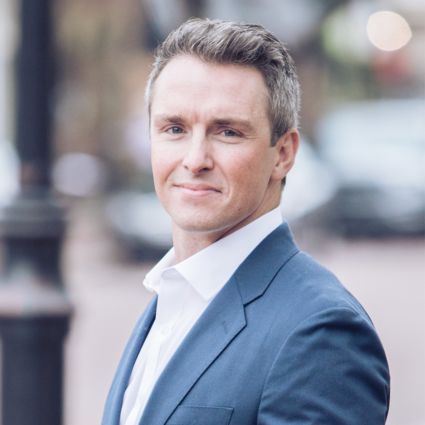 Brandt Green
Licensed Realtor®
While new to being a Licensed Realtor in 2019, Brandt Green has spent the last seven years successfully serving the Annapolis area community as one of the highest-rated Licensed Healthcare Providers specializing in non-drug, non-surgical physical medicine and pain management and building one of the largest private practices in the area.
An injury prevented him from continuing to treat patients but opened up the door for him to pursue another passion of his…Real Estate! The success Brandt had in practice was due to his entrepreneurial spirit and intense focus on the details of the client experience, combined with a passion for sales and online marketing. He's excited to take his experience as a doctor and practice owner and apply that same winning formula to helping people buy, sell, and rent their homes.
What sets you apart from the competition?
A "Be Human First" approach, as well as my knowledge and ability to market, play a substantial part in setting me apart from the competition. It doesn't matter who I'm working with; my goal is to be a human first and have an authentic relationship. Everything else is secondary. I focus on listening more than speaking, connecting, and making sure my clients feel understood so I can deliver and help them meet their goals. I take pride and enjoy taking a personal interest in anyone I work with.
Marketing, specifically online marketing, is something I've spent years studying and teaching. The science and psychology of marketing has had one of the most significant impacts on my success to this point. I love applying those same marketing principles and strategies to help my real estate clients buy and sell their homes for the best price in the shortest amount of time.
How did I become so good at what I do?
I invest a lot of time, energy, and money into learning and modeling from people who know a lot more than I do about real estate, marketing, sales, communication, health, and everything else. My background as a college athlete helped to cement, in my mind, the need to always have a coach and mentor in my life. It's something I will continue to do throughout my life and career. This is precisely why I joined The Gerdes Team vs. going out on my own!
Real estate is highly competitive; how do you maintain a code of ethics?
Throughout my entire physician career, I've been held to the highest standards when it comes to ethics, compliance, and privacy. I saw early on that those in my field who practiced the highest standard of ethics had the most successful and most satisfied patients, even at the highest levels of competition. For me, real estate is no different. The highest standard is the only standard.
What has been the highlight of your career so far?
The relationships. Many of my clients have become friends and so have those on the team. It's not about me, it's about we. I love that I have a group of people behind me to help my client have the best experience and get the best deal possible. It's something I can't put a price on.
If your clients could leave you at the end of a transaction with one thing on their mind, about you, what would you want that to be?
I would want clients to leave me knowing that I care. I care about them as people and that they had a great experience working with me. Even if I can't help them get what they are looking for, I want them to feel like they could come back to me and refer others to me in the future.
Listings you'll love
with the expert advice you deserve