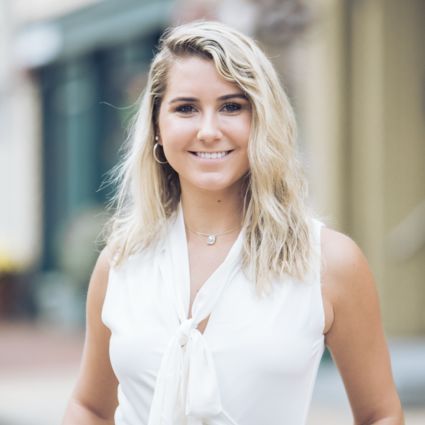 Karoline Kent
Licensed Realtor®
Karoline has called Maryland home for the past 19 years, having split that time between Anne Arundel County and the Eastern Shore. A licensed Realtor since 2016, Karoline has spent time learning and growing in real estate, ultimately becoming extremely knowledgeable of the local market and helping her to become one of the premier agents in the area.
Being young and full of energy, she focuses on always making sure to be available to take your call, text, or email, knowing that communication is key whether buying or selling your home. Always willing to go the extra mile and explore all options in order to get her clients the best deal, Karoline makes sure her clients are more than satisfied.
What sets you apart from the competition?
• What sets me apart from the competition is my ability to communicate, build a relationship, and make an immediate connection with anyone I meet, potential client or not. Also, I don't treat real estate as a regular job, I enjoy what I do and my clients notice that.
How did you become so good at what you do?
• I have always been a people person so working with others and reading their emotions has always come naturally. The skill side of real estate I have learned from paying close attention to my past mentors and asking a ton of questions. Also, taking the leap - the only way I've learned is by going against the odds by challenging myself and getting uncomfortable in order to get better.
Real estate is highly competitive; how do you maintain a code of ethics?
I maintain a high code of ethics always. I was raised to follow the rules and to be fair at all times. Knowing that if I were to start letting stuff fall through the cracks and not follow the principles and lessons I stand by, the end result will not be what it should and clients/others will notice I am being unfair. I do not want that reputation. No matter how competitive real estate may get, I won't change the way I do my job.
What has been the highlight of your career so far?
• The highlight of my career was definitely my first sale. I will never forget it! It was one of the most rewarding moments of my life. I helped a first time home buyer and to this day we keep in touch and she lives close to me. It made me want to keep selling!
If your clients could leave you at the end of a transaction with one thing on their mind, about you, what would you want that to be?
• I would want my clients to consider me a friend, not just someone who sold them a home.
Listings you'll love
with the expert advice you deserve