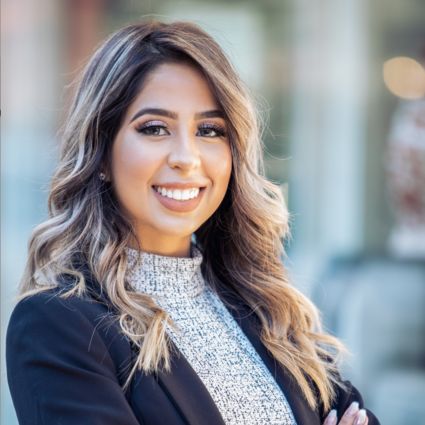 Stephanie Brown
Licensed Realtor®
A little about me
and why I love real estate
Stephanie understands the beauty of home as well as the beauty of the journey, and the importance of being there with you, every step of the way.
When Stephanie was eight years old, she moved to Maryland from El Salvador. Being fluent in both Spanish and English has helped Stephanie excel in helping her community. Stephanie believes in creating opportunities for others and being of service to as many people as possible. Real Estate has always surrounded Stephanie's life, her husband Kevin Brown is also an agent on The Gerdes Team, and together they are excited about helping people through the real estate buying and selling process.
Whether it's time to turn a new page in your book or you're ready for a completely new chapter, you can expect Stephanie to help you get there with the highest levels of class, support, and guidance.
What sets you apart from the competition?
Determination. I am complety determined to be an example for my beautiful daughter, Layla. Being on the same real estate team as my husband gives us an edge. I know my husband won't let me fail, and he knows I won't let him fail either. Together we are better; together, we can serve as a unit.
How did you become so good at what you do?
For me, real estate is so much more than just the actual sale. It's about connecting. It's about being there for people and making sure I do everything I can to help. Being myself and remembering where I have come from has helped me become the person I am. Now, it will help me to guide people to where they are going.
Real Estate is highly competitive. How do you maintain a code of ethics?
It's never about doing what's easy; it's always about doing what is right. We are in the business to help people. I decided to become a real estate agent because I saw it as an avenue to serve. In serving, I see no other option but to maintain the highest code of ethics.
What has been the highlight of your career so far?
I'd have to say that the highlight thus far has been being in a position to help people. I've always been the type of person to be there for others. Seeing other's dreams come true, and knowing I was apart of it, that's been the biggest highlight for me.
If your clients could leave you with one thing on their mind about you, what would it be?
She cares.
Listings you'll love
with the expert advice you deserve