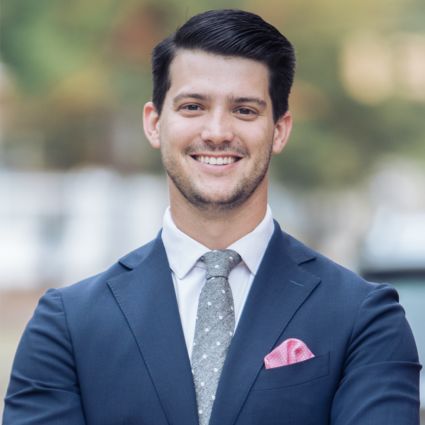 Riley White
Licensed Realtor®
As your real estate agent, Riley works and lives for the love of home. He is your trusted advisor, your practiced negotiator, your skilled house-hunter, and your neighborhood expert. Whether you're buying or selling, he will diligently work with you every step of the way on your home journey.
Riley has been in real estate since 2016. As three-time Chairman of the Young Professionals Network for the Anne Arundel County Association of Realtors, Riley is actively working to build a diverse, new generation of leaders in the real estate industry. Riley specializes in assisting First Time Home Buyers find and purchase the home of their dreams, as well as helping Sellers maximize profits while eliminating the sometimes daunting stress of selling.
Riley was recently selected as an Honoree for the Inaugural class of Baltimore Real Producers 30 Under 30. As they have put it, "The Best and Brightest." The individuals who stand out in the Real Estate Industry and are overachievers in their commitment to themselves, their company, charities, and local communities.
Riley brings a refreshing approach to his young career, building relationships, and working relentlessly on the client's behalf to help them reach their real estate goals.
What sets you apart from the competition?
• I'm willing to do what it takes to earn and keep your business. Nothing will stop me when it comes to earning your trust.
How did you become so good at what you do?
• I've been able to hone my skills through years of growing up in and around the business. With a family that has a combined 35 years in the real estate industry, I've been fortunate to learn the ins and outs from a young age.
Real estate is highly competitive; how do you maintain a code of ethics?
• Since day one, I engrained it into every piece of my business. While every deal matters, and every deal is important to me, I would happily lose a deal if it meant I had to do something shady.
What has been the highlight of your career so far?
• There's been too many to name. There is no better highlight to me then when someone sends me their friends and family to receive the same great experience of buying or selling with me. It says, "I trust you, I appreciate your work ethic, I'll vouch for your abilities."
If your clients could leave you at the end of a transaction with one thing on their mind, about you, what would you want that to be?
• I'd like them to recognize that I truly do live and breath my core values... Honesty, integrity, and a burning desire helping others.
Listings you'll love
with the expert advice you deserve